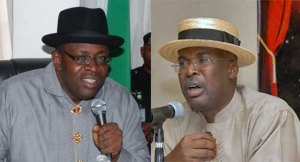 The Governor of Bayelsa State, Seriake Dickson has set up a judicial commission of enquiry to examine the alleged violence and thuggery during the governorship election.
He said that he was worried about the situation and that his government would go to any length to uncover those behind the situation.
Before INEC declared the result in Southern Ijaw Local Government Area inconclusive, Governor Dickson had advised against conducting the election in Southern Ijaw late in the night without adequate security.
Sylva Rejects Cancellation
Meanwhile, the All Progressives Congress (APC) and its governorship candidate in the December 5 election have rejected the cancellation of the election held in Southern Ijaw, by the Resident Electoral Officer.
Speaking to journalists shortly after the announcement, Mr Timipre Sylva said that the action of the election umpire is a rape on democracy and has denied the people of Bayelsa the right to choose their leaders.
He also alleged that the Independent National Electoral Commission (INEC) has shown that it is working in collusion with the Peoples Democratic Party (PDP).
To this end the party said that it would explore legal means to ensure that not only is the franchise of Bayelsa people protected, but that the All Progressives Congress gets what is due to it at the polls.
The Resident Electoral Officer announced the cancellation of the elections in Southern Ijaw on the grounds of alleged violence and snatching of ballot boxes.